Sebastian Pierce

The bent jokester

Sebastian Pierce

is a Male Water Elemental created by

Time

. Please do not use this character without his permission.




Full Name
Sebastian Ethan Pierce
Nicknames
Bash, Seb, Sebby, Bastian,
Current Age
16
Birthday
13/2/2001
Gender
Male
Relationship Status
Single
Sexuality
Homosexual
Current Location
The Academy
Dorm

Model
Brian Whittaker
Gender
Male
Eye Color
Blue
Hair Color
Black
Height
6'0
Weight
145lbs
Body Style
Athletic
Ethnicity
Caucasian
Handedness
Ambidextrous
Shoe Size
9
Native Language
English
Accent
Brazilian
Mental/Emotion Disorders
{{{disorders}}}
Medical Issues
Healthy
More Images


| | | |
| --- | --- | --- |
| Attitude | | Usually pretty good |
| Social Temperament | | Great |
| Bad Habits | | |
| Viewpoint on Life | | One day at a time |
| Fatal Flaw | | Hedonism |
| Likes | | Fighting, DJing, |
| Dislikes | | Himself |
| Fears | | {{{fears}}} |
| Hobbies | | Maths |
| Personal Motto | | ~ |
| Things He/She Won't Do | | |
| Most Admires | | WIP |
| Most Influenced By | | None but his own views |
| Reaction to Crisis | | Head on |
| Reaction to a Problem | | Tries to fix them |
| Reaction to Change | | Adapts and forgives |
| Alignment | | Acadamy |

| | | |
| --- | --- | --- |
| Color | | Blue |
| Music | | Dance |
| Food | | Sausages |
| Drink | | Water |
| Animal | | Sloth |
| Book | | WIP |
| Song | | |
| Movie | | Black Swan |
| Sport | | Ice hockey |
| Subject | | Art |
General Status
---
"I don't know who my grandfather was; I am much more concerned to know what his grandson will be."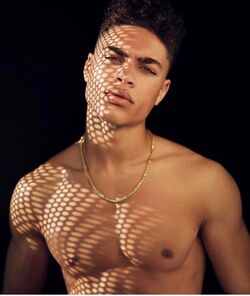 Sebastian is an optimist, preferring to look on the bright side than the downside, a refreshing breather compared to his siblings. Not a loner, he doesn't mind being around people and can make easy conversation. On the other hand, he's also quite the jokester, preferring to joke around and make fun of his siblings than anything. He's also quite good with numbers, being able to solve a puzzle in a minimal amount of time than most, it also means he quite likes math. Unfortunately, he's not that creative or wordy so classes like English doesn't come naturally.
Good with his hands, he likes to pickpocket people for fun, even though he has the money to not. Unlike others, he doesn't really care for material things and never let his wealth get to his head, much rather living in the moment and the experience of things than anything.
---
"If you want to conquer the anxiety of life, live in the moment, live in the breath."
Special Skills
His skills are being able to read a crowd and accomodate to their desires.
Strengths
Who knows
Weaknesses
Short temper,
Weapon(s)
His powers
Quests Been On
None

*Hydrokinesis - manipulate and control liquid water and mold it into any desired shape or form. This includes shooting water blasts, creating water shields/domes, and using the water as a body armor.

Aquatic Adaption - breathe underwater, adapt to water pressure, allowing them to swim deep as they please. This also includes the ability to tell whether any body of water is made out of freshwater or saltwater. They can also know their exact coordinates when in water.

Hydroportation - teleport across short or long distances through liquid water.

Cryokinesis - control over ice, snow and other forms of frozen water.

Jeremiah:

Brooklyn:

Sophia:

Gray

:
---
"It is for your own good to love a dare-devil rather than a holy coward."
Ad blocker interference detected!
Wikia is a free-to-use site that makes money from advertising. We have a modified experience for viewers using ad blockers

Wikia is not accessible if you've made further modifications. Remove the custom ad blocker rule(s) and the page will load as expected.